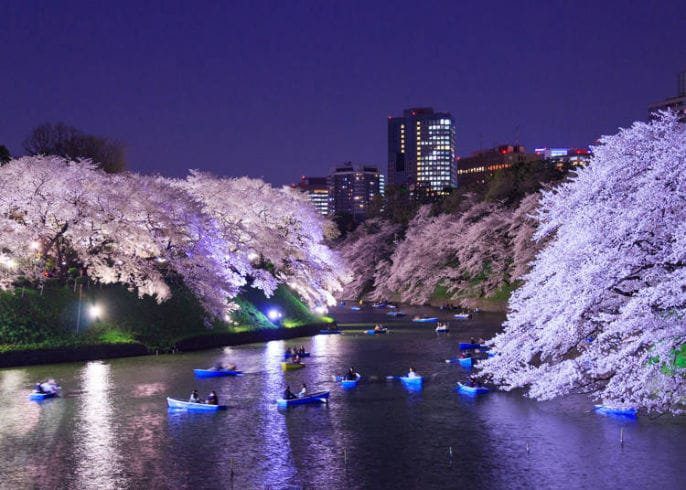 Are you planning to travel to Japan in the spring for the cherry blossom or "Sakura" season? We've made this helpful guide for you to make the most of your trip!
Cherry Blossom Season
When the Sakura trees bloom in Japan, individuals of all ages and professions gather around for Hanami, or a time to appreciate, contemplate, and enjoy. There is no natural event more closely associated with Japanese artistry, culture, and philosophies than the fleeting blooming of cherry blossoms.
Sakura trees spread their pink wreaths to the heavens. Tiny petals are swirled around by spring winds. And there's a delightfully bittersweet realization that this stunning beauty will vanish in a matter of days. All of these combined is the image of Sakura or Cherry Blossoms that Japanese people always celebrate.
In this in-depth look, we discuss everything you need to know about this Sakura viewing culture, also known as "Hanami" and reveal the finest sites to admire cherry blossoms in Japan.
What is Hanami, you ask?
In Japanese, Hanami refers to the act of admiring the sight of blooming cherry trees, known as "Sakura," in springtime.
People usually gather on a blanket beneath the cherry blossoms and spend quality time together while drinking alcoholic drinks and enjoying a picnic. During this blooming season, the most popular Hanami places become congested with food and drink stalls, and there are sometimes festivals and activities of various kinds.
Furthermore, Hanami can be experienced not only during the day but also at nighttime, whenever the cherry trees are illuminated and provide a completely distinct and majestic scenery known as "yozakura."
The Hanami Story
Sakura were thought to be trees that hosted deities such as the deity of the mountain and the deity of the rice fields in ancient times. As a result, farmers used to bring tributes to the cherry trees in the spring and pray for a bountiful crop.
As time progressed, this custom took on new meanings and aesthetics. Aristocrats used to adore the Sakura and write poems about them throughout the Heian era (794–1185), but it was not until the Edo era (1603–1867) that it became customary for the general public to go out on a picnic in spring to adore the Sakura, comparable to the Hanami of today.
Meaning Behind
So, what distinguishes Sakura from a flowering Ume or wisteria tree?
The answer to that question lies in the short lifespan of its petals. Shortly after the blossoms have fully formed, the wind begins to sweep them away.
Sitting under a Sakura tree, it's rare not to be reminded of the finite nature of its beauty. The little, delicate petals are not just a lovely natural spectacle, but also a metaphor for life.
This acceptance of the way of things defines Sakura's philosophy, and it is the reason why, in the end, it is always the cherry rather than the plum that inspires many poems, images, songs, dances, books, and other works of art and ideas.
What Sakura Species Could You Possibly See in Japan?
In Japan, there are various kinds of cherry trees, with roughly 600 of them being officially recognized. They vary in color, number of petals, branch shape, and other characteristics depending on whether they are "wild," growing naturally on hillsides and hills, or "cultivated."
Their blooming season differs depending on the species, so double-check ahead of time. The most prominent species is called "Somei Yoshino," and it accounts for almost 80% of all Sakura trees planted in Japan. Another well-known species is "Shidare-zakura," which has drooped branches and a vivid color.
The Best Time to Plan for Hanami
The blooming period varies depending on location and the Sakura species, although they typically bloom in a south-to-north sequence.
From late January to mid-February, cherry trees in the Okinawa region are the first to bloom. Then there's Kyushu, West Japan, and Kanto from late March to early April, Hokuriku and Tohoku from mid-April to late April, and Hokkaido throughout late April to late May. Because the forecast varies season to season, you may consider this as a guide for when to observe Sakura in various parts of Japan.
6 Best Places to Visit for Hanami in Japan
Miyajima, Hiroshima Prefecture
Miyajima, or "shrine island," is known for its famed "floating" torii gate and is one of the most picturesque sites in Japan, as well as an excellent location for watching cherry blossoms.
This small island, less than 30 minutes off the shoreline of Hiroshima, is home to the Itsukushima Shrine and a plethora of cherry trees. There you can find a five-story structure for magnificent views from above, and the shrine's garden has plenty of strolling pathways for flower viewing—and the possibility to observe wild deer!
Uminonakamichi Seaside Park, Fukuoka Prefecture
The Uminonakamichi Seaside Park, also known as the "Uminonakamichi Kaihin Ken," is a public park in Fukuoka Prefecture. The park's around 2,000 cherry trees make it ideal for the Hanami tradition in the spring.
This vast, family-friendly park is over four kilometers (almost two and a half miles) long and filled with flower beds, picnic areas, and playgrounds. The bicycle lanes are lined with cherry trees, and because the park is so large, biking is preferable to walking.
Takada Cherry Blossom Festival, Niigata Prefecture
The Takada Cherry Blossom Festival is a Sakura celebration and a magnificent sight to behold at night. Takada Park in Niigata Prefecture is home to over 4,000 cherry trees.
During the spring, 3,000 paper lanterns illuminate the park at night. The three-tiered Takada Castle, which is brightly illuminated, is at the heart of the park. The moat of the castle mirrors the Sakura, enveloping the castle in blooms from every perspective. On the final day of the festival, tourists can also stroll along "Sakura Road" and watch fireworks.
Osaka Expo '70 Commemorative Park
The Expo '70 Commemorative Park, or "Banpaku Kinen Ken," is not only one of the best spots in Osaka to see cherry blossoms, but it also has a fascinating history.
The Japan World Expo in 1970 was an international celebration with over 75 pavilions. Following the Expo, this area was repurposed into a public park, with some attractions, such as the Dream Pond and Tower of the Sun, still standing.
Today, courtesy of its flower gardens, seasonal floral exhibits, and over 5,000 cherry trees, Expo '70 Commemorative Park is a popular site for Hanami.
Kyoto's Okazaki Canal
The Okazaki Canal in Kyoto, near Nanzen-ji Temple, is also an excellent place for watching cherry blossoms both during the day and at night.
Take a boat trip on the Okazaki Canal or walk the trail that runs alongside it to immerse yourself in Sakura. Boat trips are still offered at night, and the Sakura trees are illuminated.
Iwate Prefecture's Kitakami Tenshochi Cherry Blossom Festival
This Cherry Blossom Festival, celebrated at Kitakami Tenshochi Park in Iwate Prefecture, is a Sakura celebration and one of the three leading Hanami locations in the region.
Kitakami Tenshochi Park is 300 hectares in size and has cherry trees that line the sides of the park's paths, creating a blossom canopy. Visitors can walk through the labyrinth of flowers or travel in a horse-drawn carriage.
Plan a One-of-a-Kind Hanami Experience!
There are numerous locations in Japan that provide spectacular views of cherry blossoms. Celebrating spring and this particular blossom is a historic Japanese custom that is passed down through generations.
Nothing seems more symbolic of human mortality than the Sakura, and we hope you have a similar "wabi-sabi" throughout your whole Hanami experience in Japan!
Visit our website and learn more!