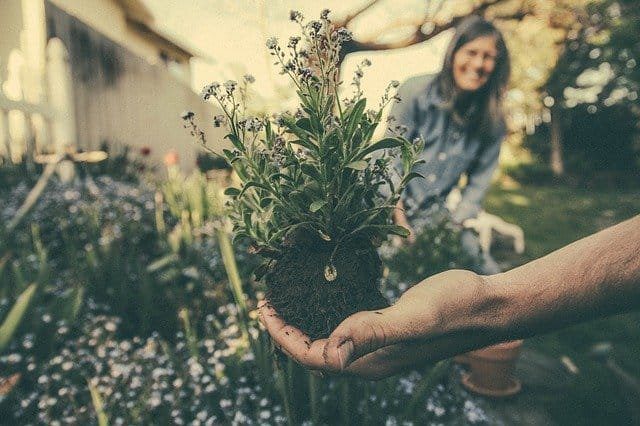 Gardeners in 2021 will look to steer away from the beaten path and instead opt for unconventional garden designs and practices. The key garden design trends for 2021 revolve around the growing need to utilize the garden to create a sanctuary at home and for adopting sustainable gardening practices and materials.
Carefully manicured and formal gardens are becoming less relevant as interest in creating the wildlife look and natural ecosystems is growing.
Here are the top gardening design trends in the U.S. in 2021.
Top garden design trends in 2021
Foliage and bonsai
Interest is strong not only for native plants but for dwarf hybrids, succulents, dark foliage, novel greens, leafier and softer floral arrangements. Gardeners who want to optimize their living spaces are increasingly choosing dwarf hybrids of favorite plants that require less pruning.
The accent is also on growing vegetable and fruit gardens with ornamental vegetables, fruit-bearing plants, and edible flowers that add beauty and nutrition to the soil. People were hooked to dark foliage or plants with purple, black, or red leaves that make for striking additions to the garden landscape.
Home gardeners are also looking to diversify their edible gardens with leafy greens such as mizuna, bok choy, komatsuna, and other veggies grown outside the U.S.
A key garden trend that will continue into 2021 is to focus on leafier and softer floral arrangements. Flowers with foliage are in the spotlight with garden designers preferring to create the organic, soft feel of greenery.
Homeowners and garden designers are creating modern gardens with more dark burgundy and black foliage as well as flowers with watery blue and apricot hues.
The thousand-year-old bonsai art form is also trending as homeowners are looking to replicate nature or a small part of it in their balconies, terraces, apartments, and small gardens. Bonsai allows homeowners with little to zero outdoor garden areas to cultivate a stunning piece of nature within a controlled space.
Wildlife gardening
Wildlife gardening and the creation of natural habitats in the garden to attract pollinators and beneficial predators is a trend that is likely to continue into 2021. Homeowners are increasingly looking for low-maintenance gardens and are adopting a more relaxed and natural approach to their garden design. Garden designers are also catering to the trend of 'rewilding,' where the land is returned to natural habitats in varying scales to provide water, shelter, and food to birds, bees, and other creatures.
A 2020 National Gardening Survey by National Wildlife Federation (NWF) showed that people across the U.S. are purposefully indulging in wildlife gardening to advance the rewilding movement. Replacing lawns with native plants to attract birds, butterflies, and bees to the yards is an increasing trend for gardeners to make a positive difference to the environment in their living spaces. Garden designers are also creating small habitat oases in patios, backyards, porches, balconies, and windowsills.
According to the study, the trend of wildlife gardening has been a steadily growing one in the U.S.
One out of four or 64.1 million Americans purchased a plant in the last three years because of its benefits to bees, birds or butterflies
36.8 million Americans or14 percent of the U.S. population purchased native plants to their location in 2019.
9 percent or 23.1 million Americans replaced a portion of their lawn with wildflower or natural landscape
Adults between the age of 18 and 34 are more likely to buy organic gardening and lawn products and materials as compared to other age groups
In 2021, the Garden for Wildlife program of the National Wildlife Federation saw the highest demand in 47 years. Registrations for its Certified Wildlife Habitat programs doubled in the first quarter of 2021 while the number of website visitors went up by six times the usual.
These statistics are clear indicators of the fact that Americans are increasingly drawn to conserving and enhancing the diversity and abundance of wildlife species with natural gardening methods. In this context, the demand for online wildlife gardening resources has also gone up with more interest in open-pollinated and non-GMO treated seeds and herb-based beverages for wildlife garden crops.
Garden getaway
The ongoing pandemic fueled the work-from-home trend which is expected to continue in 2021. A 2021 Gallup study found that 56 percent of Americans were working remotely. Forty-four percent of them said they would continue to work from home even after the states lift restrictions due to personal preferences.
Many people are transforming their gardens into retreats where they can unwind, escape and relax. From large backyards to small balconies, outdoor spaces are being converted into getaways in record numbers.
Creating a garden getaway is all about:
Choosing beautiful native plants and low-maintenance plants that reduce the stress of ongoing maintenance
Incorporating a Zen garden design to create space for meditation or self-contemplation
Adding the calming sound of water with a small pond, built-in fountain or small tabletop fountain
Adding abundant shade from a pergola, an umbrella, shade tree or shade sail
Multifunctional gardens
The remote working trend has also sparked the need for multifunctional gardens and garden offices. According to a survey, there was a 174 percent increase in online searches for garden office pods.
Garden designers are witnessing an exciting and significant shift away from conventional lawns and static places that had been the key features of American front yards. The year 2021 is likely to see the expansion of multifunctional gardens where family members utilize every square inch of their garden space throughout the day.
People are looking to create additional outdoor spaces with gardens being used for Zoom meetings, relaxing, entertaining or enjoying the simple pleasures of gardening. Some designers are witnessing increased demand from homeowners for dynamic activations in their garden area including:
group seating for family or neighborhood gatherings,
kids play areas
sculptural features
sports courts,
mini orchards
vegetable beds
medicinal plantings
Tea plantings
Beehives
A key garden design trend that is likely to dominate in 2021 is to extend all the comforts and amenities in the interior space to the exterior living spaces. Some of the latest garden landscaping projects feature family spaces that have everything from billiard tables, pizza ovens to big-screen televisions. People basically want their homes and garden spaces to resemble resorts that they stayed in during their vacations replete with amenities and natural beauty.
Clients, according to a landscape designer, are requesting the addition of fully equipped kitchens to their outdoor spaces. These kitchens have custom-built grills, storage spaces, and fridges.
Water elements and natural swimming pools
According to Christine Ten Eyck, a landscape architect, swimming pools continue to be in demand. However, in 2021, it will no longer be about having big swimming pools and extensive paving. Homeowners are increasingly recognizing the need for smaller swimming pools that occupy less green space in their urban properties. The accent is on creating water bodies that are surrounded by lush green landscapes instead of concrete or paving. People are also looking to add outdoor showers to enjoy the experience of bathing or showering amidst intoxicating fragrances of flowers and plants in their private gardens.
While water fountains and birdbaths are not new concepts, they have been gaining traction in recent years. People are beginning to appreciate the needs of the birds and wildlife around them as well as the beauty of creating focal points with water in their garden. Water features such as a fountain, fish pond, or trickling water from a small waterfall attract birds and act as an important water source for urban wildlife. Attracting birds to the garden is a huge trend that is likely to take center stage in garden design in 2021. Water features also add an element of serenity that is much-needed to beat stress in challenging times.
Sustainable gardening
Sustainable gardening is a practice that promotes growing grass, shrubs, fruits, and vegetables without the use of harmful pesticides. It includes the use of native plants, trees, and shrubs, respecting and enriching the soils, creating an eco-friendly garden landscape, and conserving water.
In 2021, the trend of sustainable garden design is set to dominate with a focus on
Resource-conserving principles such as crop rotation, soil preparation, composting, and rainwater conservation to minimize environmental impact.
Use of eco-friendly building materials to build decks, walls, walks, or garden patio.
Sustainable design also considers energy efficient placement of plants to harness sunlight and water. Shade-loving plants, for instance, are planted in the shadow of sun-loving, tall plants while sun-loving plants are positioned in areas that receive the most sunlight.
Repurposing items such as the use of plastic nursery pots to start seeds, repurposing wine bottles, vintage wall sink or birdbaths to create planters
Adding "composting" space to recycle organic scraps
Xeriscaping refers to the use of native plants to conserve resources and add a unique appeal to outdoor living spaces.
Eco-friendly furniture made of sustainable materials including certified teak and eucalyptus, reclaimed wood, bamboo, wicker, rattan, recycled plastic and even, single-use milk jugs. Brands are showcasing their commitment to promoting conservation initiatives such as responsible sourcing, planting more trees, donating to environmental causes, and fair trade practices. The global market for eco-friendly furniture is expected to grow at a steady CAGR of 6 percent between 2020 and 2030.