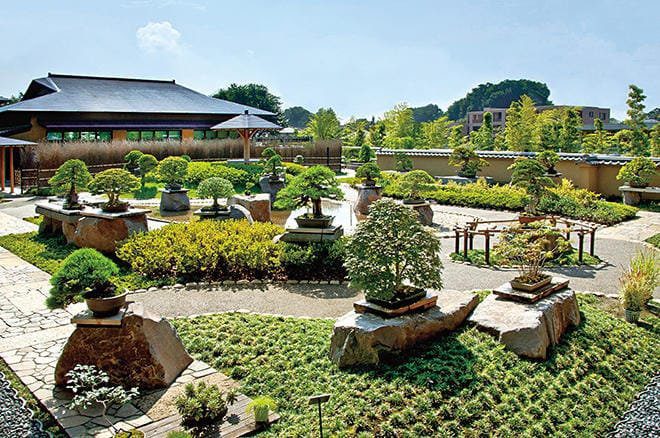 With so many amazing places to choose from and so many online journals to sift through, deciding on your ideal destination, whether it's your first or second trip to Japan, can be challenging.
It's unlike anywhere else on earth, with futuristic architecture, serene bamboo forests, neon arcades, and contemplative temples. The food is fantastic, the people are really kind, and the public transportation system is among the best in the world. The mixture of convenience and delightful perplexity makes everyone drawn to its beauty.
Of course, for bonsai enthusiasts or even beginners, it is the perfect place to visit. To help you cut through the clutter and make the best decisions for your Japan holiday, we've compiled a list of amazing places to find bonsai in Japan. 
Japanese Art of Bonsai
Bonsai literally means "tray planting," and that is exactly what bonsai art is. Bonsai is the practice of pruning and dwarfing trees to confine them inside the bounds of their vessels. The plants have not been modified in any manner. Rather, the limbs are trimmed and connected to promote specific types of growth.
Almost any plant with a woody trunk and branches can be utilized to make these miniature trees. The most significant component of bonsai is its aesthetic value, as the purpose of this style of gardening is to capture a restricted image of natural beauty.
Types of Bonsai
Bonsai, particularly Japanese bonsai, has become popular all around the world. This art form is widely spread, and it has evolved and adapted to embrace a wide range of styles as a result of its exposure to other nations, beliefs, and cultures. Each design is meant to depict trees in their natural habitats. Every potential natural location, from windy outcroppings to densely populated woodlands, requires a unique approach.
Visit our page to learn more about different species of bonsai and the proper ways on how to cultivate them.
Bonsai Viewing Places and Japanese Gardens
This list of bonsai viewing places and gardens in Japan will guide you in searching for the best locations and make you more inspired by the art of bonsai!
Omiya Bonsai Village
Omiya Bonsai Village is a peaceful suburb two train stations north of Omiya Station in Saitama City. Along the district's serene walkways, there are several bonsai nurseries and a magnificent bonsai art museum. These bonsai trees are also commonly found in the gardens of local homes.
Omiya Bonsai Village was founded in 1925. Because of the devastating impacts of the Great Kanto Earthquake in 1923, bonsai nurseries and horticulture industry workers in downtown Tokyo were forced to move. They picked Omiya because of the pure water, valuable land, and favorable soil in this place.
Within the village, a significant bonsai museum can be found. The Omiya Bonsai Art Museum, which teaches tourists about various aspects of bonsai, was an outstanding addition to the town in 2010. English audio introductions and well-written English descriptions clearly explain how to admire the artistic expression and highlight important details to remember. The museum also displays diverse bonsai techniques as well as necessary components like pots and stones.
The village has about a half-dozen bonsai nurseries. They accept walk-in visitors, but photography is not permitted. They feature a large collection of bonsai and gardening tools for sale. The majority of nursery owners are eager to answer questions and encourage anyone who is interested in bonsai. Before visiting here, it might be helpful to know that the nursery and the bonsai museum are closed for certain days.
Fujikawa Kouka-en
Mr. Fujikawa owns the Fujikawa Kouka-en garden, which is located near Osaka in the Ikeda district. The nursery first opened in 1950, and several of its trees have since been accepted into the Kokufu-ten in Tokyo.
The garden is filled with beautiful bonsai trees and serves as a working environment for various apprentices and students. Bjorn Bjorholm, his former pupil, developed the "Bonsai Art of Japan" series, which was shot at Fujikawa Koukaen.
Mr. Fujikawa frequently has international students or apprentices, which is really beneficial for those who do not know Japanese. In addition, a bonsai school just opened, offering short-term classes and apprenticeships (from one week to several months).
Minoru Fujikawa founded the Fujiwara Koukaen Nursery in the 1950s, and it has since become the top bonsai nursery in Japan's Kansai Region. Originally, the nursery was a producer and grower of Satsuki Azaleas. However, as time went on, the focus shifted to incorporate a wider range of topics.
During the 1990s, the Fujikawa family passed Koukaen down to Keiichi Fujikawa, who today owns and maintains the nursery.
Shunkaen Bonsai Garden
Kunio Kobayashi, one of Japan's most well-known bonsai artists, founded Shunkaen Bonsai Garden in 2002. It was founded with the desire to introduce more people to bonsai's beauty and the profundity of representing nature in a little pot.
This garden is unmistakable. The majestic 1000-year-old pine tree in front of the villa, Mr. Kobayashi's collection's masterwork is the first thing you are likely to remember when entering the garden.
There are almost 1,000 different types of bonsai, all of which are grown with meticulous care by master craftsmen. At some moments, you may see them watering and tending to bonsai with scissors.
Of course, trees are rotated and sold, but there is always one that stands out in the courtyard. Several tokonoma are put up within the house, along with a big collection of literature and vintage Chinese pots and tables.
Shunkaen Bonsai Museum
This Tokyo bonsai museum offers a wide range of activities and events based on Japanese bonsai. They not only have a large collection of bonsai to look at, but they provide bonsai classes and apprenticeships.
The workshops allow you to make your own bonsai tree, which you can take home for an additional cost. These seminars provide a more expedited experience and do not provide the same level of immersion as the apprenticeship.
Kinashi Bonsai Village
This place has been cultivating bonsai for over 250 years and controls 80% of the domestic market for pine trees. There are around a hundred nurseries here, with about a dozen of them being considered high-end (training high quality trees). Many vast fields of new nursery plants are also grown in the neighborhood, giving the entire community an ethereal quality.
The yearly bonsai festival takes place at Ueki Bonsai Center in late October. This coincides with the Takamatsu Bonsai Convention, which is really highly recommended because masterful bonsai trees are on show at Takamatsu's two main tourist attractions.
Showa Kinen Park
Being Japan's premier state-owned bonsai park, you may expect to see a diverse range of bonsai upon visiting this place. The park features bonsai exhibits as well as a hands-on learning zone where visitors can discover more about how to cultivate and build their own bonsai.
Adachi Museum Gardens
These gardens are stunning and provide a tranquil view of a typical Japanese garden. While they aren't very interested in bonsai, they do have a few of the shrunken plants strategically scattered throughout the garden. So, keep your eyes out as you delight in the surroundings. The gardens provide diverse experiences depending on the season, so if you believe you've seen everything, think again. You should consider returning at a different time of year.
Do You Want to Learn More About Bonsai?
Discover more about the world of bonsai and how you can improve your skills! Visit our blog section to learn more about bonsai history, knowledge, and how to cultivate your own.