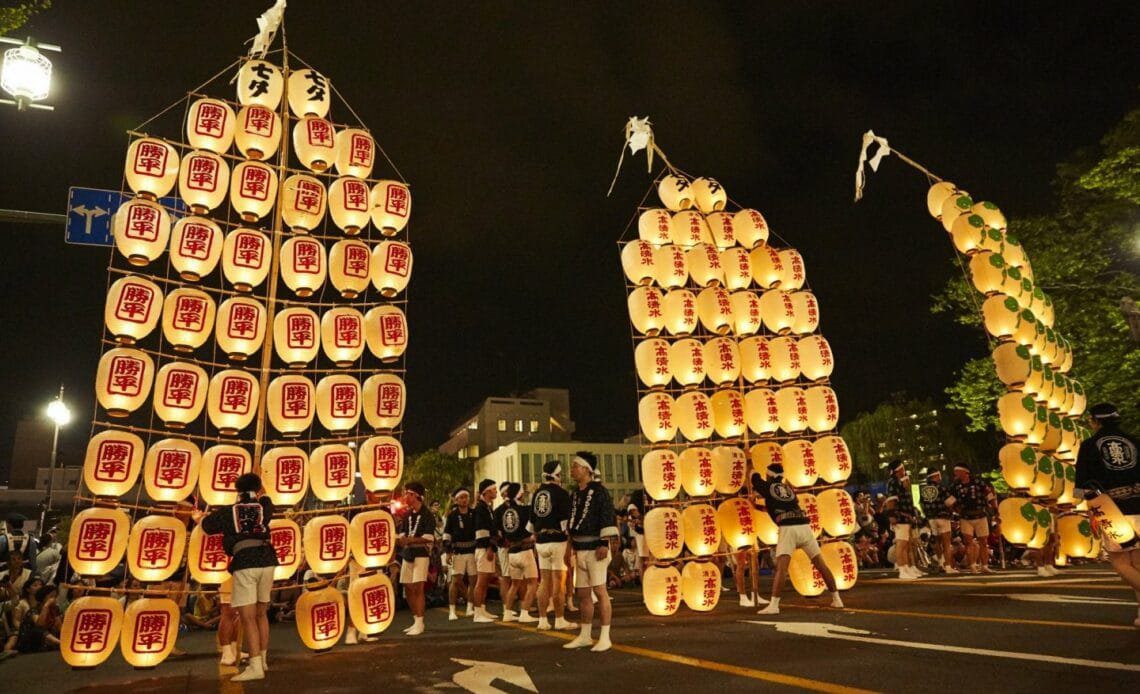 "And at last, I see the light, and it's like the fog has lifted. And at last, I see the light, and it's like the sky is new…"
Admit it or not, we've all been dreaming of living a life just like Rapunzel's while humming that song, watching the magical lantern displays on a very special day. Well, maybe except for the fact of being locked inside a tower and having that evil witch always present to spoil your happiness.
Now here's the good news: like the dashing prince in every Disney film, Japan is here to help you check something off your bucket list – the lantern festival!
Get your notepad ready and don't forget to write down the important details we'll be sharing with you!
Learn About, Explore, and Experience Kanto Matsuri
The pole lantern festival, also known as Akita Kanto Matsuri, is a yearly occasion that attracts more than a million guests. Here you may enjoy about 10,000 candle-lit lanterns being raised into the air on bamboo poles by festival attendees.
This article will tell you everything you need to know about the Akita Kanto Festival, including how to get to Akita City, its history, and how to enjoy this event to the fullest!
Keep reading to learn more about it!
Transportation to Akita City
Akita City is found in the northern Tohoku Region of Japan's Akita Prefecture. The bullet train is the quickest method of travel to Akita. You may take the Akita Shinkansen to Akita Station if you're traveling by train.
By Shinkansen, Akita City may be reached from Tokyo in about 5 hours or from Sendai in about 3 hours. The major festival area is simply a short 15-minute trip west of Akita Station once you depart the train station.
Akita Kanto Matsuri's History
Neburi Nagashi, a ritual for curing ailments, is where this celebration got its start. The Akita Kanto Festival was first celebrated as a devotion and prayer for a fruitful harvest and good health in the coming year in the 17th century. Initially, there were only a few participants and about 5 kanto, but as time went on, the number increased until it reached over 250 kanto up to this date.
Kanto's Intangible Cultural Heritage
Kanto has a wide variety of bamboo sticks. Each has a distinct function.
Oyatake is the primary stick in Kanto. Yokotake, or the bamboo attached to the main stick, and Tsugidake, or the bamboo used for extension. To be able to construct significant lantern designs, you must be familiar with this.
The Japanese government designated the Akita Kanto festival as a National Intangible Folk Cultural Asset in 1980 due to its remarkable historical and cultural importance. The Ministry of Education, Culture, Sports, Science, and Technology also appoints individual teachers and masters of the arts who are given this title. They receive a yearly stipend of roughly 2 million yen. Therefore, the government pays the costs associated with educating new pupils and promoting culture.
Additionally, each contender has a certain attire. Kimonos in black and white are worn by the men. They are given an eloquent and commanding appearance by having bands placed on their foreheads that resemble those worn by Master Oya kata. Everything comes together to provide a distinctive ethnic value for this area.
Because of its growing popularity, even artists in the US, Great Britain, Germany, China, or France now practice this sashite's art.
Taking Part in The Akita Kanto Matsuri
Performers balance exceptionally enormous kanto (bamboo poles) with lines of illuminated paper lanterns during the Akita Kanto Matsuri. The biggest kanto, which has 46 paper lanterns with candles lit within, normally comes in a variety of sizes. The height of these kanto is approximately 12 meters (40 feet), and their weight is about 110 pounds (50 kg).
At this time, the players wear dazzling, vivid kimonos and kaftans. Another is the custom of dressing as Japanese anime and manga characters. Participants in the celebration dance, sing, play instruments, clap, and chant to the rhythm of the taiko and ohayashi drums. You can try to juggle lanterns while watching courses, touring the Akita City Museum, and admiring the amazing, tall lantern towers while you wait.
We advise laying down a tarp or blanket along Chuo Dori, the event's main thoroughfare, before the nighttime activities start. This will allow you to choose a location where you can clearly see the event. Also, you won't have to worry too much about where to find tarps and tape because they are available at convenience stores and 100-yen shops all around the city.
Enjoy the Kanto Festival to the fullest!
As the evening's events get underway, crowds of people queue up on the 1 km stretch of Chuo Dori as over 250 kanto poles are used by hundreds of artists to line the street. Performers lift up the kanto simultaneously with one great push after the drumbeat signal is given. After that, for the next 90 minutes of the event, they move down the street while alternately hoisting the kanto.
Following the main show, you can meet the performers and chat with them, get your picture taken with them, or even attempt to hoist one of the kanto yourself! Be mindful even when they make it seem simple. They weigh a great deal.
A Fantastic Presentation and Local Gourmet Food Set the Tone for the Fun!
It would be a shame not to try all that exquisite cuisine since you're already there, even though you could be mesmerized by the performers' amazing and odd skills. Make the festival experience twice as enjoyable by letting your eyes and stomach judge which local delicacy "on-the-go" food looks the most appetizing! You got it right! This festival also showcases some of the best foods for both the eyes and the palate.
Akita Station is close to a variety of food carts and other attractions that are open during the day. A sneak peek at what will happen during the festival's evening performances is included in some of the entertainment. A small group of volunteers congregate with their kanto poles loaded with paper lanterns to demonstrate their balance.
Safety First!
At the lantern festival, experiencing the rush of excitement and adrenaline is common. There is no doubt that the contenders have enough power and speed. Although occasionally, Kanto falls directly onto the audience after colliding with trees or power lines. Fortunately, most of the lanterns burn out when they fall, and since everyone is so entranced and eager to watch the display, they choose to pursue and save the Kanto instead of fleeing.
It is a festival bursting with flavors, sounds, experiences, and colors. The contestants and artists tackle it with complete dedication, knowing that Kanto is a part of their identity. The audience applauds loudly and enthusiastically when the Japanese extol the virtues of their distinctive history, and some of them even get actively involved in spreading Kanto to other parts of the world. With its variety, this exceptional event tempts and is worth the risk. Just never miss it if you are spending August in Japan.
Try It Out for Yourself!
Festivals are the rule in Japan. More of them are claimed to be prevalent there than there are days in a year. The biggest parades draw millions of spectators from all over the world. One such occasion is the Kanto Matsuri, which takes place in Akita. This Lantern Festival is well-known throughout the world and has a spectacular procession, an extraordinary legacy, and a spectacular setting.
Learn more interesting topics in our blog section!