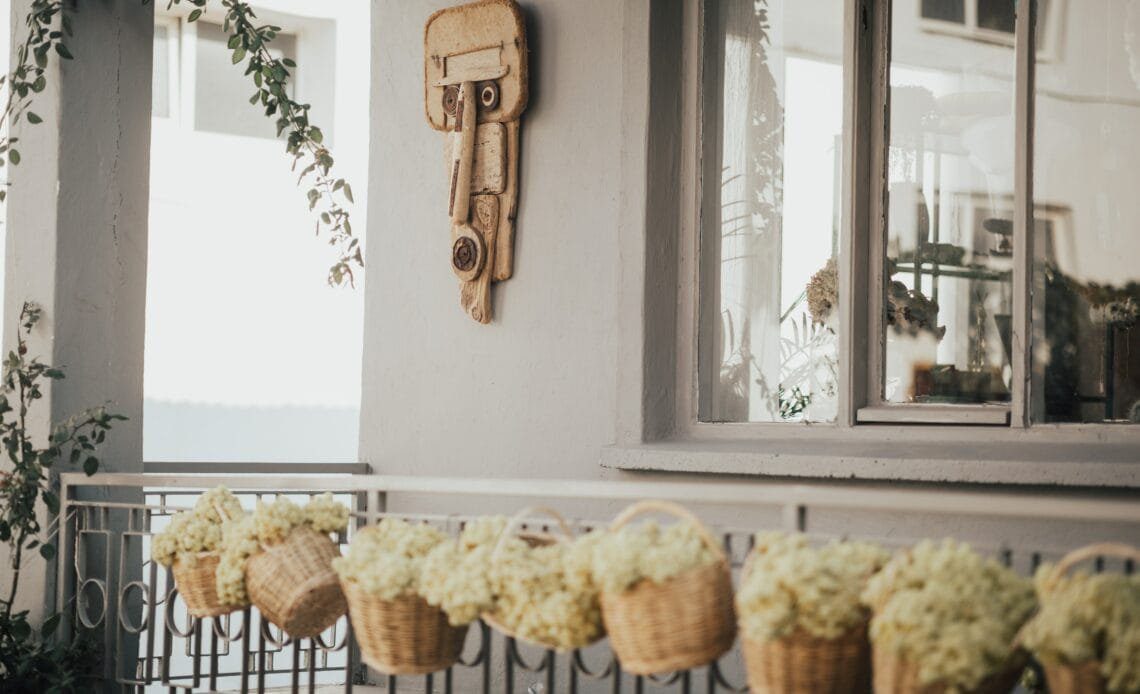 You might believe your possibilities are limited if your outdoor space is not particularly spacious. But even the smallest plot can be transformed with a ton of fantastic and unique small garden ideas.
If that's your problem, you've got nothing to worry about, because we've got you covered in this article.
How Should a Small Garden Be Planned?
Consider what your garden needs to provide for you and how to design it so that it includes those elements. You can get some basic structure assistance from a few top-notch garden design applications available nowadays. You probably want a comfortable area to relax on warm days, so clear some area and search around for some chic outdoor furniture. To get ready for some outside dining, you may also even place a parasol.
Additionally, we adore using lights in the garden, particularly solar lights that allow you to make the most of the area after sundown. You'll also need some kind of garden storage to store your gardening equipment, toys, or anything else that frequently ends up outside if your front or back garden is too tiny for a garden shed.
How Can a Small Garden Be Made to Look Attractive?
Time to think about planting. Maybe all you need is some space around your table and chairs for some gorgeous seasonal plants and herbs in pots. There may be space for a charming border that will transform your city garden into a country one. If you want to learn more about how to cultivate plants and choose the appropriate ones for you, our blog section is the best place to start.
Creative Ideas for a Small Garden
You'll find a lot of small garden ideas to fascinate you, whether you're trying to design a stunning balcony garden, pack outdoor furniture into a courtyard, or cover a plot with vegetation.
We've prepared this list of 10 amazing ways to help you elevate your small garden at home!
1. Create a Layered Appearance
Layers don't just add the illusion of depth when in your hair; they can go a long way in gardens, too. Combine both raised beds and ground-level beds to add height and create a layered look to your planting, implying the presence of much more foliage than there actually is.
Additionally, slightly raising a path or walkway will make the ground level planting seem taller, too.
2. Make a Little Herb Garden
Herb gardens don't just have to be on windowsills or in big, designated vegetable patches. Repurpose a side or coffee table to become a lovely and homemade planting space that's perfect for herbs.
By placing the plants higher, you'll not only free up space beneath for more planting or storage, but also spare your back a lot of strain from stooping over vegetable beds.
3. Play With Perspective to Trick the Eye
It's amazing how much you can fool the eye into thinking your garden is bigger. A pathway might not be the best option if you have a long, narrow garden because it will just stretch rather than enlarge the area.
Add interest to the corners of the area and choose curving lines over rigid, straight ones if you want to attract attention from across space rather than merely down it. The eye will be drawn around the area rather than merely directly to the end of it by even a little border filled with abundant overflowing plants of different heights.
4. Give Fences a Dual Purpose
Consider using vertical wall space for strategic planting to emulate the components of a living wall. This makes the most of the available space and enables even the smallest garden areas to grow. It is especially helpful if you're seeking ornamental grassless garden ideas.
The side of the shed can be transformed into a stunning living wall by adding a few cleverly placed horizontal fence panels. When planning your front garden ideas, this might also be used on a section of bare wall or fence or on the side of a balcony. These compact outdoor areas can easily be converted into vertical gardens that can hold smaller potted plants and containers.
5. Create a Multipurpose Garden
Ensure that what you have is functioning effectively for you if space is limited. Raised flower beds, garden walls, and garden seats can all be combined in a well-planned garden.
Consider adding vegetation to create shading, privacy, and interest in the upper levels, while the wall would provide a convenient ledge for lanterns and useful built-in seating. Cushions give a delightful splash of color and the comfort of interior living to the outdoors.
6. Consider All-Season Blooms
You can always anticipate simple upkeep all year long if you have a tiny garden outside your home. But be careful to incorporate perennially blooming floral plants to give the overall design a colorful, natural feel.
7. Make a Garden in a Glass
Why not give making a terrarium a shot? We can understand why there has been a resurgence of these small gardens inside glass. A tiny ecosystem is active here. A whole forest in a bottle!
They are best suited for tropical plants that love moisture and ferns. A closed terrarium develops its own atmosphere and only requires light from the outside. This can be compared to a tiny greenhouse!
A terrarium adds an attractive houseplant container that is green all year long to your home and is also low maintenance.
8. Blending Indoor and Outdoor Spaces
In recent years, indoor and outdoor living spaces have become a great trend in gardens, which is good news for small gardens because you can practically borrow space from indoors to make it seem like the outdoor space is larger.
9. Try Growing Things in Containers
A small garden area might end up becoming your favorite place in the house and your creative haven. Consider a container garden concept to enhance the design's aesthetic appeal and practicality. A range of herbs, tomatoes, and even strawberries are available for selection. With a stylish idea like this, you can conceal your garden in beauty while saving money on your shopping bill!
10. Establish a Bonsai Garden
With miniature plants, even the smallest gardens in the world can have them. Actually, bonsai aesthetics are the standards and guidelines established for growing a plant in a container. There are numerous varieties of bonsai plants, which has led to a blooming bonsai aesthetic.
Bonsai plants may fit in any place and are simple to maintain. The beauty of a bonsai tree is distinct. It's almost like taking your favorite tree, the one you liked to sit under as a child, and making it smaller so you can set it on your table. These plants can invigorate your home when you grow them.
Be Inspired!
Although they are stunning to look at, expansive gardens need a lot of labor. In some respects, having a smaller garden design is advantageous because it drives you to make the most of your available area. The benefit is even greater when you can turn it into the outdoor space of your dreams.
Check out our Blog Section where you can discover so much more!