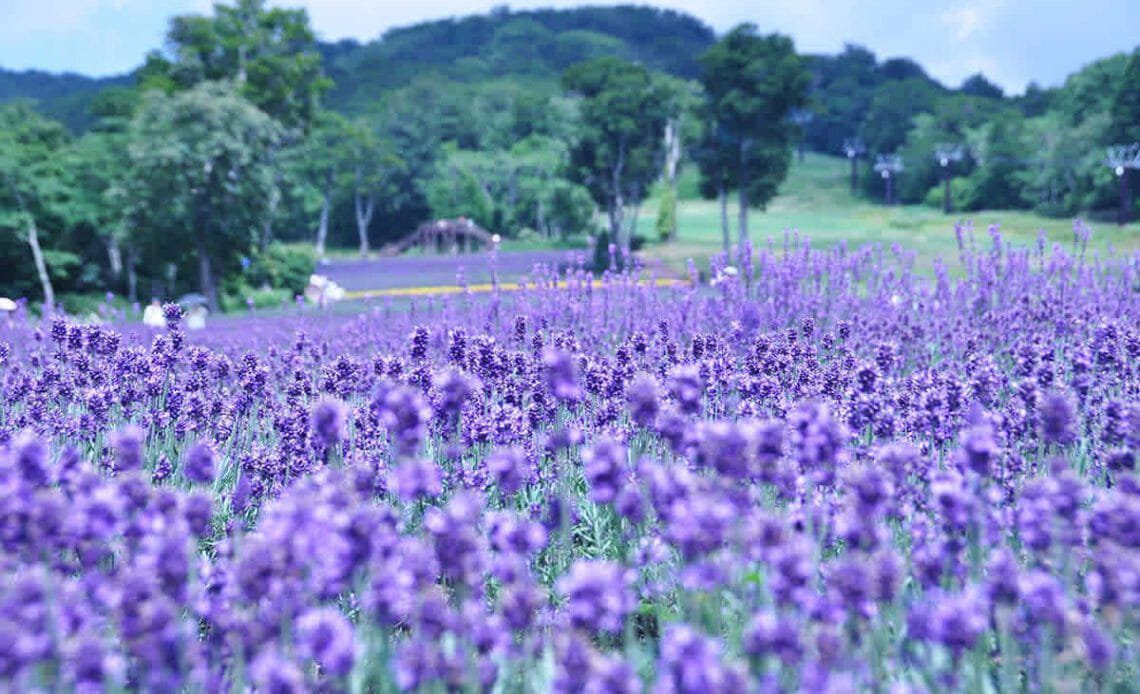 Lavender is one of the many flowers that bloom in Japan on a seasonal basis. June is often when lavender fields blossom.
This offers distinctive foods and a festive mood in many places, just as much a special seasonal celebration as the cherry blossom season.
Hokkaido is home to some of Japan's most stunning and well-known lavender fields, but for your convenience, we will begin with those found on the country's main island. Here are some of the finest lavender fields in Japan if you're eager to explore the famous lavender fields throughout the summer.
Enjoy!
1. Tambara Lavender Park in Gunma Prefecture
Tambara Lavender Park is Japan's largest lavender park in the Kanto region. The lavender flowers, which normally occur from early July until the end of August, are the only time the park is open.
There are almost 50,000 different kinds of lavender plants, comprising early, mid, and late-blooming varieties.
Along with the well-known lavender, daylilies, and sunflowers are also grown here.
Moreover, the park is home to a large number of cafes and eateries. Plus, the park's renowned lavender soft ice cream is a must-try! The shops in the park also carry a huge selection of items with a lavender theme. Families will love this place because it offers a playground for kids. There is even a dog run if you are bringing your dog!
2. Lake Kawaguchiko in Yamanashi Prefecture
The Fuji Kawaguchiko Herb Festival, an annual flower festival, is held in Oishi Park on the picturesque shores of Lake Kawaguchiko, where Mt. Fuji may be seen in the background.
Lavender blooms from mid-June to mid-July, and the festival locale is known for many different types of flowers throughout the year. This festival is often hosted in two parks: Oishi Park on Lake Kawaguchiko's northern shore and Yagisaki Park on its southern shore.
Near the lake, tens of thousands of purple lavender flowers are in bloom, creating a breathtaking landscape. Many stalls selling food, including lavender soft-serve ice cream and souvenirs with lavender themes, may be found at the festival.
Spend a spectacular summer day outside of Tokyo by traveling to Lake Kawaguchiko for a stunning vista of the lavender fields and Mount Fuji.
3. Arakogawa Park in Aichi Prefecture
In the summer, Arakogawa Park is one of Nagoya City's most visited locations. Every year, the park's more than 5,000 lavender plants bloom from early to mid-June.
The fleeting opportunity to see the lavender in bloom, which lasts for approximately 9 days and is at its peak in mid-June, is undoubtedly a satisfying experience.
Enjoy taking a stroll through the flowers as bumble bees buzz around. Along with that, this park is home to a stunning Japanese garden.
4. Sennen no Sono in Saitama Prefecture
The largest lavender field in Japan is found in Sennen no Sono, a picturesque rural village in Saitama Prefecture. Ranzen is the name of the small town where the Ranzen Lavender Festival is held.
From Tokyo's Ikebukuro Station, a direct train may be taken to the town with ease. It will take around an hour to travel one way.
Lavender is grown here on an eight-acre plot of land. This lavender garden's best viewing period is from late June to early July. There are several lavenders on exhibit, which will make your journey delightful and memorable. Every summer, rows of lavender and delicate scents adorn the meadows.
Even if its lavender production has a shorter history than the other fields discussed in this article, you will still be astounded by how well-organized and attractively displayed the farmers have made it.
Without a doubt, this is an amazing sight to see. Visitors can purchase food and beverages at the festival, and they do have a flower-picking event as well.
5. Furano Highlands in Hokkaido
Highland Furano is the place to go for a wonderfully soothing vacation. The only onsen, or hot spring baths, with a view of lavender are located here.
While taking a dip in the outdoor bathtub, enjoy the vibrant color of a lavender field. There is also this peaceful hotel outside of the city center of Furano. The only natural hot spring in Furano is the one it uses. Free viewing is available of the "Lavender Sea," which is located outside the hotel.
In contrast to many other lavender destinations, a visit to Highland Furano is a tranquil experience in a somewhat less touristy environment.
6. Horomitoge Lavender Garden in Hokkaido
This lavender farm in Sapporo is a great option for tourists with limited time. This is a good alternative if you can't visit Furano's famous lavender fields.
You can see the city from the colorful lavender fields, which are located above it. It's an incredibly beautiful sight to behold. Of course, you can also buy a variety of lavender-themed souvenirs here!
7. Farm Tomita in Hokkaido
Farm Tomita is a very attractive lavender farm with 20 hectares and 12 flower fields. It blooms from June to late August and is regarded as one of the best lavender fields in Hokkaido. The enormous lavender fields you'll find here are unlike anything else.
In the distance, the lush Tachi Dake mountain range rises, offering some unusual photo opportunities. A "color scheme field" is a stunning sight where bands of flowers bloom side by side in various colors.
Another beautiful vista is "Flower View Field," which features blooms from spring through fall. You'll probably find yourself in the "Field of Happiness," which is full of numerous species of lavender with their soothing colors and fragrances, as you meander through the flowers.
In addition to the fields, you may sample numerous lavender-flavored farm delights and buy lavender-related items. You can also go to the "Perfume House" to see how various scented goods made from lavender are created. Create your customized scented bookmark if you get the chance!
8. Choei Lavender Park & Hokusei Sayama Ski Area in Hokkaido
This lovely farm is a small hill blanketed in vibrant flowers in the Nakafurano region. Here, salvia, marigolds, sunflowers, and lavender all blossom in the summer. There are several varieties of lavender in this area.
A magnificent view is provided by a single chair lift. In the winter, it carries snowboarders and skiers up the snowy slopes.
In mid-July, this place hosts the Nakafurano Lavender Festival. You may enjoy the breathtaking flower fields as well as stalls selling food and souvenirs!
9. Hinode Park in Hokkaido
Nothing compares to this garden, which is known as the birthplace of lavender in Japan. It provides a full 360-degree vista of lavender, other bright-colored flowers, and nearby mountains.
The greatest views can be found at an observatory on a hill. From there, you can see the entire Furano Basin. A neighboring auto-camp site makes it a wonderful location to spend all of your local exploration time in the summer.
10. Lavender East in Hokkaido
The greatest lavender fields in Japan are found in Lavender East. There used to be rice paddies in this area, but today there are lavender fields, often used to make perfume.
Here, you may eat cuisine and indulge in lavender soft serve ice cream, as well as see the field from a viewing deck at the center and stroll through walkways close to the flowers.
The best time to see lavender around here is in mid-July. Take the lavender bus on a tour of the fields.
Conclusion
Nothing compares to the feeling of visiting a breathtaking natural area and returning home with a ton of images to post on Instagram.
Why not explore some bonsai gardens if you've already been to any of these locations?
We can help you with that!