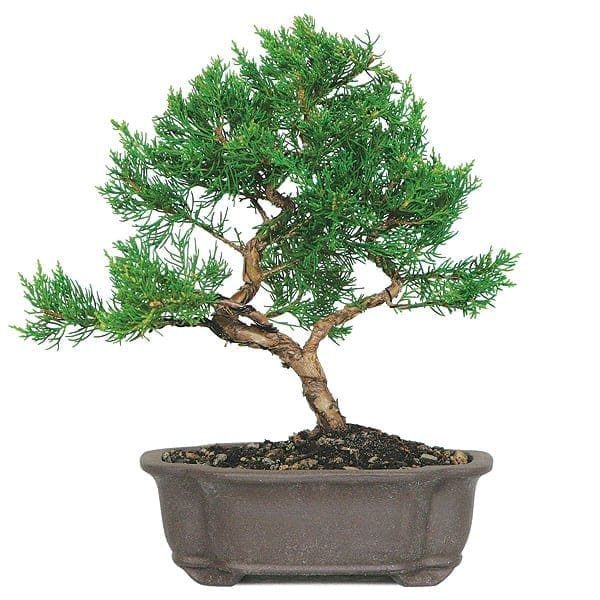 Juniper Bonsai Tree (juniper procumbens nana)
If you're looking for the classic Outdoor Evergreen Bonsai Tree, look no further than this dwarf Juniper. Resilient and durable, it can endure many difficult environments. Just put it outside and watch it thrive.
Looking at this Bonsai tree will have you thinking of simpler times; perhaps this is why it is the most popular outdoor Bonsai tree amongst United States Consumers.
Juniper – Cascade Style (juniper procumbens nana)
This Japanese dwarf evergreen combines conventional Bonsai tradition with the most unique of foliage shapes. Place it in your garden and it's sure to provide a gorgeous contrast to the rest of your trees and plants. Its sturdy trunk rises into a lush landscape of leaves that can be described as "Cascade Style." Surprisingly cheap and affordable, this Juniper is well worth the price.
Flowering Pyracantha Bonsai Tree (pyracantha 'mohave')
If you only think of simple browns trunks and green leaves when you think of Bonsai trees, this Outdoor Evergreen Bonsai tree will expand your perception of Bonsai trees. It grows beautiful warmly colored (yellow, orange, and red) fruits in the fall and winter, earning it the nickname "the Firehorn."
One of the most dynamic Evergreen Bonsai trees you'll ever see, its colors are white in the spring to provide brilliant contrast to its flowers in the colder months. At 16 years of age, it has been through this inspiring cycle of changing colors over a dozen times and it can do so many more times under your care! For all of its splendor, this tree is surprisingly affordable.
Hinoki Cypress Bonsai Tree Evergreen Conifer (chamecyparis obtusa 'nana')
This Outdoor Evergreen tree delights the eye with its proud width. It's relatively short but strong trunk sprouts out gorgeous lush branches absolutely full of dark green packets of leaves. Ten years old and ten inches tall, this tree is ready to grow in your garden and provide some earthy natural contrast to the colors of your flowers. The Hinoki Cypress Bonsai Tree Evergreen Conifer can be found for sale here. Buy a few today!
Green Thread Cypress Bonsai Tree (chamecyparis pisifera 'golden mop')
This resilient Outdoor Evergreen Bonsai tree is full of life! Its foliage spreads far and wide from sturdy trunks. Contrast this tree's prolific green leaves with the bright flowers of a Flowering Purple Rhododendron for an absolutely fantastic combination of earthy dignity and colorful beauty. Best of all is the Green Thread Cypress Bonsai Tree's low price; for the best and most affordable specimen click here.
Flowering Camellia Sasanqua Bonsai Tree (Shishi Gashira)
If you're looking for an Outdoor Evergreen Bonsai with delightful pink flowers that stay in bloom for several months, you must consider the Flowering Camellia Sasanqua Bonsai Tree.
These trees are hugely respected in their areas of origin (eastern and southern Asia), where they bring to mind the virtues of long life and fidelity. It's no surprise that the Flowering Camellia Sasanqua Bonsai Trees are featured prominently in Asian weddings. When one reviews this tree amazing tree with its dark green foliage and stunning flowers, a high price might be expected.
Golden Hinoki Cypress Bonsai Tree (chamecyparis obtusa 'nana lutea')
This fantastic Bonsai tree inspires visions of the palm trees found in more tropical locations. With thick, blooming green foliage, anyone who takes the time to review this tree is sure to love it. This is the type of Outdoor Evergreen Bonsai tree that looks best in a group – purchase several cheap Golden Hinoki Cypress Bonsai Trees here and you'll have the makings of a peaceful and aesthetically magnificent outdoor area.
Colorado Blue Spruce Bonsai Tree Extra Large (picea pungens)
The most American of all Outdoor Evergreen Bonsai Trees, this Colorado Blue Spruce Bonsai brings freedom and prosperity to mind. Almost Christmas tree-like, its needles grow out in straight, ordered patterns from its strong central trunk. For one of the most impressive specimens for sale at a great price, follow this link.
Cryptomeria Bonsai Tree (japonica – tansu)
For a tall, dense, gorgeous evergreen Bonsai tree, look no further than the Cryptomeria Bonsai Tree. With an impressively dynamic range of colors, its curved needles are a dark green in the warm months but then take on exotic purple and bronze tones in the winter.
While it should be sheltered from cold winter weather, it can endure most outdoor climates and grows slowly for easy maintenance. For a great, yet affordable Cryptomeria Bonsai Tree, go here.
Shimpaku Bonsai Tree (shimpaku itoigawa)
Originating from Japan, this four-year-old tree is just beginning its life. Its eight-inch trunk sprouts beautiful clusters of bright green leaves. For one of the most affordable and best groomed Shimpaku Bonsai Trees, follow this link.
Flowering Purple Rhododendron (rhododendron 'checkmate')
This spectacular dwarf Bonsai tree is one of the most flamboyant ones for sale, and at a cheap price. Its bright purple flowers offset its small blue-green leaves, dazzling the eye and providing a truly exotic visual in any outdoor environment it grows in.
The flowers on this amazing evergreen will make you think of romance and formality. For an affordable Flowering Purple Rhododendron that will bring the quality of your outdoor space up immediately, check out Bonsai Boy.
Yaupon Holly 'Will Fleming' Three Tree Forest Group (ilex vamitoria)
Buy this beautiful Outdoor Evergreen Bonsai tree and get three trees in one! Its long slender trunks sprout up into deep green leaves. With three trees in one pot, one can't help but think of an enchanted forest when seeing this fantastic arrangement.
Indigenous to North America, the Yaupon Holly 'Will Fleming' is highly respected by the American Indians, especially for the caffeine they use to produce tea with from its leaves and twigs.
Inject the spirit of the natives by featuring a Yaupon Holly 'Will Fleming' in your own outdoor environment. Click here for the most fantastic grouping of three trees for sale.
Flowering Chinzan Azalea Bonsai Tree (azalea satsuki 'chinzan')
For a dignified yet low maintenance Outdoor Evergreen Bonsai Tree, the Flowering Chinzan Azalea Bonsai tree represents top of the line excellence.
This glorious tree features a high contrast of pink flowers with deep green leaves. So resilient that it can even bloom in shady areas, this Bonsai tree is absolutely sure to be the centerpiece of any outdoor area that it graces.
It isn't cheap, but you can't expect a low price when considering a tree of such quality. Do yourself a favor and follow this link to view the Flowering Chinzan Azalea Bonsai Tree and consider its role in your life.
Canadian Hemlock Bonsai Tree (tsuga canadensis 'horsford contorted')
One of the most interesting aspects of Outdoor Evergreen Bonsai Trees is that they originate from so many different unique locations worldwide. This Canadian evergreen tree is six years old and stands ten inches tall.
The kinked curvature of its trunk is as beautiful to look at as the bright green needles that grow on its numerous branches.
Place this special tree amongst other outdoor Bonsai trees from different continents (such as the one of a kind Japanese Green Maple Bonsai Tree) for a dynamic, multi-cultural Bonsai environment!
San Jose Juniper Bonsai Tree (juniperus chinensin 'san jose')
For an easily maintained Bonsai tree that produces Juniper Berries in the summer, you can do no better than the San Jose Juniper tree. Its thick trunks with rough, earthy bark easily support its numerous branches of scale and needle foliage.
Although originally from East Asia, this spectacular Outdoor Evergreen Bonsai Tree adds notes of dignity and beauty to any environment it grows in. For the most affordable and healthiest San Jose Juniper, follow this link.
Ilex Holly Bonsai Tree (rock garden)
Perhaps the cutest of all outdoor evergreens, the Ilex Holly Bonsai Tree is small and dense with its dark green leaves sprouting from a short, stout trunk. Even though this tree is only four years old, reviewing it tree makes one think of stability and maturity. Click here for the most beautiful Ilex Holly Bonsai Tree on the market at a positively low price.